About Us
We are the Wilsons (Amy and Tim) and we are passionate about living, and helping others to live, a life that is happy, healthy and a positive influence on the world.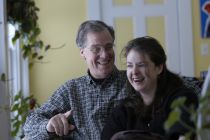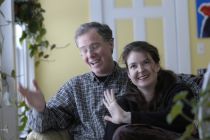 We are happiest when we are working together and helping people access information that will enrich their lives.
Lullaby-Link is the product of Amy's love of music and Tim's love of the world wide web.
We formed our internet publishing company, Angelsong Creations, LLC, in 2008 to help bring positive messages to large audiences via the world wide web. Our first publications, Transformational Mothering-A Prayerful Companion for New Mothers and The Divine Hours of Motherhood - Lullabies and Prayers for Mothers and Babies, were released in the Spring of 2009.



Lullaby-Link is the first of a family of sites designed to support families with small children. We invite you to visit Angelsong Creations for more information about our work and goals.
If you would like to hire our Lullaby Lady, Amy Robbins-Wilson, for a workshop, performance or speaking engagement please contact Tim by email at contact us.
If you have questions or comments about this site or how we could improve it, please email us. We would love to hear from you!
Return Home from About Us

Copyright Information