I Remember You
Music Sample
I Remember You Lyrics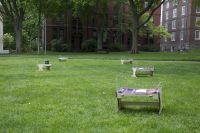 Oh the Spring it is a coming
And the trees are softly blooming
And the wild mountain thyme
Blooms along the purple heather
And I remember you, my love, you
Living in my heart forever
As I pick wild mountain thyme all around the purple heather
I remember you, I love you

I will build for you a bower over by yon crystal fountain
And in it I shall pile all the treasures of the mountain
To honor you, my love, you
Living in my heart forever
As I pick wild mountain thyme all around the purple heather
I remember you, I love you.

In the skies and in the starlight
In our talks so late at midnight
I see wild mountain thyme bloom along the purple heather
And I remember you, my love, you
Living in my heart forever
As I pick wild mountain thyme all around the purple heather
I remember you, I love you


Background Information
It the last day of recording Angel Baby Lullabies. The night before, I had been reading the wonderful book "After Finley" by Mel Scott. Mel and her husband buried their little angel Finley under a Hawthorne tree.
The recording sessions had been going well but there was still something missing. I just couldn't put my finger on it but there was a quiet voice gently nagging at me. The music just wasn't quite complete.
Then, I was warming up my voice in the shower (yes I love singing in the shower) and was almost ready to go, when the traditional song "Wild Mountain Thyme" came into my head. In that instant, it became "I Remember You", a tribute to all families who honor their angel babies by remembering them and by allowing them to live in their hearts, and Angel Baby Lullabies was finally complete.
For the traditional lyrics, check out the Wild Mountain Thyme page.


Return to Angel Baby Lullabies

Return Home from I Remember You