Lullaby and Goodnight
33 Lullabies for Babies
Lullaby and Goodnight - 33 Lullabies for Babies is more than just lullaby music! It is great music to be sure. Most of the clips used on this site are from this CD which is sung by our very own Lullaby Lady and Mom's Choice Award Winning recording artist, Amy Robbins-Wilson.
The collection is over an hour long and has all the greatest hits including Hush Little Baby, All Through the Night, Twinkle Twinkle, Sleep My Baby and many, many more. With 33 lullabies for babies, it is like buying 3 CDs in one.
But beyond the hour of soothing and comforting music, there are educational bonuses.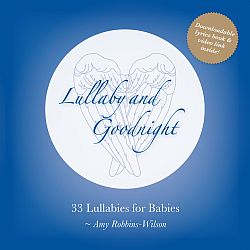 Educational Bonuses
Each CD contains a valuable download link that takes the buyer to a video course that teaches parents how to use these songs to help bond and communicate with their babies while helping them learn.
There's also a downloadable lyrics book to support parents in singing along with the CD or singing these lullabies for babies on their own.
Get the CD today and let Amy's crystalline voice sooth your household as the day comes to a close.

Visit Amazon to see Lullaby and Goodnight - 33 Lullabies for Babies


See the Complete Track List

Return Home from Lullabies for Babies